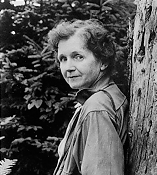 While Rachel Carson is primarily remembered for her best selling novel Silent Spring which was published at the end of her career, just two years before her death, she was in all respects a pioneer for the environmental movement. Rachel Carson brought together a rare passion for writing with a detailed understanding of science and produced several books describing the sea and its life including: Under the Sea-Wind (1941), The Sea Around Us (1951), The Edge of the Sea (1955) and The Sense of Wonder (posthumous, 1965) in addition to Silent Spring (1962).
Silent Spring compiled anecdotal and scientific information on the cumulative effects of popular insecticides and demonstrated in alarming fashion the impacts chemicals, including DDT, which were being used to enhance agricultural productivity by eliminating pest insects were having on our lakes, rivers, oceans and bodies.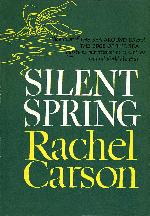 Rachel Carson's work brought publicity and credibility to an environmental movement that was in need of both. Prior to Silent Spring the most Americans believed that science was a force for good and should not be questioned. Rachel Carson's work uncovered ethical themes that continue to dominate the tenor of environmental discussions as she questioned the effectiveness of and called attention to the effects of human tinkering with environmental systems. Silent Spring was not without controversy however as scientists from the pesticide industry openly questioned and attempted to suppress the book and its author.
Rachel Carson's career came at a time when women seldom studied the sciences, and yet she pursued science vigorously. She withstood criticism by allowing her work to be scrutinized and by encouraging others to review her sources. Silent Spring is one of the best documented non-fiction accounts ever published with nearly 55 detailing the sources of information used to write the book. Her writing won acclaim not only for its theme, but also for its content as she won the prestigious John Burroughs Medal for The Sea Around us, and was later honored with awards by the New York Zoological Society (1954) and the National Wildlife Federation (1963) for her work. Many also credit Rachel Carson with helping inspire the Environmental Protection Agency, in part as a result of her testimony to the U.S. Senate in 1963 when she urged the "creation of a Pesticide Commission … be considered."
Born in Springdale Pennsylvania in 1907, Rachel Carson was always fond of nature and wildlife, and studied biology as an undergraduate at the Pennsylvania College for Women at Pittsburgh (now Chatham College) where she graduated in 1929. Following college Rachel Carson pursued a Master of Arts degree at Johns Hopkins and it was there she discovered her interest in the sea through field seasons at the Wood's Hole Marine Biological Laboratory. Receiving her Master's degree in 1932, Rachel Carson spent her professional career first working as a Zoology professor at University of Maryland, and latter as an aquatic biologist for the U.S. Bureau of Fisheries and its successor, the Fish and Wildlife Service before earning enough with the publication of The Sea Around Us to retire to writing in 1952. Rachel Carson died a premature death as the result of breast cancer and, although she never married and had no children of her own, did leave an adopted son, her grand-nephew Roger Christie.
Click here to learn more about Rachel Carson's books.
For more resources about Rachel Carson, her life, publications and careers visit: www.rachelcarson.org