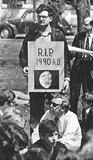 Earth Day began as an idea. Like many good ideas it wasn't an idea unique to one person as two events called "Earth Day" were both planned during 1969 to ultimately be held in the Spring of 1970. Chronologically, the first Earth Day event was conceived by author John McConnell as an event "to think about Earth's tender seedlings of life." Overseen by the mayor, Joseph Alito, this event was held in a single city, San Francisco, California on the vernal equinox, March 21, 1970.
The larger, and more famous Earth Day was conceived by then Wisconsin Senator Gaylord Nelson as a program to get thousands of college students on dozens of campuses to devote an entire day to speeches,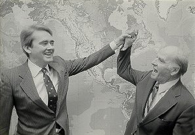 seminars, and projects on natural resources and the environment. This event was planned against the backdrop of social unrest as a result of the Vietnam War and associated protests, and in the wake of one of the largest oil spills in history in Santa Barbara Channel. The most powerful environmental organizations were fighting air pollution and water pollution as smog was beginning to be recognized and the Great Lakes, especially Lake Erie, were dying. To avoid activist overtones Gaylord Nelson's event was planned to be a peaceful, educational event.
A twenty-five year old graduate student in Harvard's joint program of law and public policy named Denis Hayes signed on to coordinate Earth Day activities for Senator Nelson. While Hayes and Nelson agreed events should take place where people live instead of just on campuses, Hayes believed there was a need to do more than just teach. Believing people would perceive that nothing would happen at a "teach-in" Hayes and his staff created a separate organization, the Environmental Action Foundation, to promote controversial issues that went beyond the "teach-in."
On April 22, 1970 the first national Earth Day took place with 42 states offering resolutions of support from either the statehouse or governor's office. The Capitol mall in Washington D.C. served as the primary venue and hosted some 200,000 people, while an estimated 20 million people took part in inaugural Earth Day activities in the more than two-thousand communities and more than twelve thousand high school and college campuses that took part in the festivities. Events were mostly civil as people came together to learn more about energy, collect trash from their streets and neighborhoods, and in some cases protest. Notable events included penny bus fares established for the day in Albuquerque, New Mexico to encourage ridership; the collection of more than a ton of garbage in Clarksburg West Virginia which was later deposited at the courthouse steps; and a "die-in" at Logan International Airport in Boston where protestors deposited coffins to protest the expansion of the airport.

Earth Day brought together disparate groups with common values and ethics as those protesting nuclear power were thrust together with those trying to protect our streams. The turn-out for the first national Earth Day event stunned not only politicians, but also the organizers of the event. After celebrating, protesting for, and learning about the Earth for a day, the term "Environment" became ingrained into mainstream culture. One measure of the event's impact came in 1971 when a poll on national priorities showed that 25% of the U.S. thought that protecting the environment was an important goal a 25-times the level just one year before.
The American government responded to concerns about the environment by passing nearly every significant piece of protective legislation between 1970 and 1980 including:
Clean Air Act

Water Quality Improvement Act

Water Pollution and Control Act Ammendments

Resource Recovery Act

Resource Conservation and Recovery Act

Toxic Substances Control Act

Occupational Safety and Health Act

Federal Environmental Pesticide Control Act

Endangered Species Act

Safe Drinking Water Act

Federal Land Policy and Management Act

Surface Mining and Reclamation Act

National Environmental Policy Act
Today Earth Day continues to be celebrated on the anniversary of the first national Earth Day, April 22. Major international celebrations took place in both 1990 and 2000, and events are organized annually in many communities. Community events are organized and supported by the Earth Day Network which is the coordinating body for activities worldwide.